Add your review
pTrumpet hyTech
Description
The pTrumpet hyTech Trumpet in black is the best of both worlds when it comes to trumpet design. Similar to the durable and lightweight construction of the pTrumpet plastic trumpet, the main body of the hyTech is made from ABS plastic.

Similarly to standard trumpets, the pTrumpet hyTech trumpet uses stainless-steel pistons housed in a yellow brass valve block manufactured to the highest tolerances. The individually shaped leadpipe, bell-bow, tuning slides and bell provide a free-blowing feel suitable for an advanced performance standard. This combination of materials is ideal for someone who needs a lightweight instrument that provides a professional and resonant sound.
The hyTech pTrumpet has many features that make it outstanding value for money. The leadpipe found on the hyTech pTrumpet uses patented hybrid technology that perfectly joins brass and ABS. This style of leadpipe assists with note production and tone, especially when using a metal mouthpiece.
On the 3rd valve slide is a finger rings, so fine tuning can always be achieved while also having a comfortable hold on the trumpet. The valves on the hyTech trumpet use aluminium valve stems and valve caps for lengthened durability while enhancing resonance.
Watch a new chapter in trumpet evolution; the pTrumpet hyTech Here...
Exam Approved
If you want to assess your child's progression through graded music exams, hyTech is suitable for exams by The Associated Board of the Royal Schools of Music.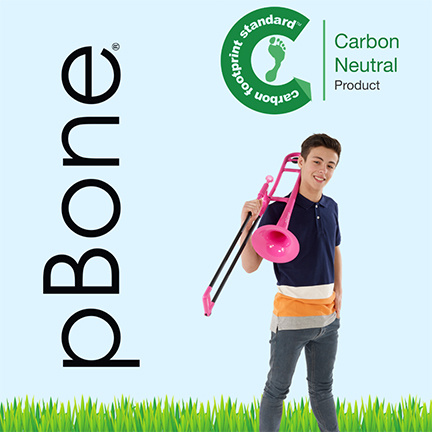 Making pInstruments carbon neutral
As consumers, just like you, our buying decisions are influenced by how sustainable the products are that we buy for our family. We're delighted therefore to be able to share that Warwick Music Group and all their products: pBone, pBone mini, pTrumpet, pCornet, pTrumpet hyTech, pBuzz and pBugle - are Carbon Neutral.
What this means is that the carbon emissions caused by these instruments have been balanced by funding an equivalent amount of carbon savings elsewhere in the world. These savings are generated through helping to fund renewable energy projects and energy efficiency projects - many of which bring additional social and community benefits in developing countries as well as reducing greenhouse gases.