Description
Looking for a fun introduction to music? The pBuzz is a new way for children to develop early music skills, the benefits of which include social, language and reasoning skills.
Easy to play
The brightly coloured pBuzz has been designed especially for mini musician's little hands. Its smooth edges and light weight make it easy for your child to make and hit the note every time; they can enjoy making music straight away.
Hassle free
Brass instruments are easily dented, damaged and high maintenance. Because our pBuzz is made from recyclable ABS plastic it is really robust, hard wearing and can withstand the inevitable rough treatment it may receive. It is very low maintenance - you can even clean the mouthpiece in the dishwasher. Mouthpiece Included (will accept any small shank trombone mouthpiece)
Fun!
Early exposure to a playful instrument like the pBuzz can help develop your child's sensory and fine motor skills, encourage self-expression, stimulate imagination. By encouraging their creativity, pBuzz will help build confidence and nurture their natural music talents, all while having great fun!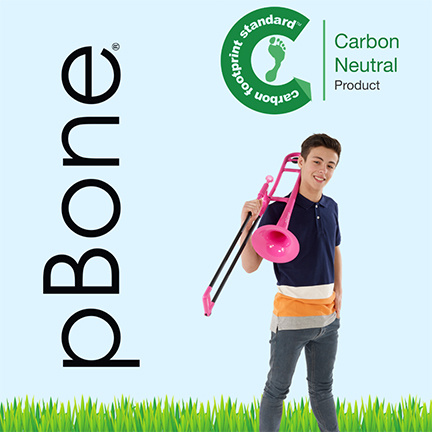 Making pInstruments carbon neutral
As consumers, just like you, our buying decisions are influenced by how sustainable the products are that we buy for our family. We're delighted therefore to be able to share that Warwick Music Group and all their products: pBone, pBone mini, pTrumpet, pCornet, pTrumpet hyTech, pBuzz and pBugle - are Carbon Neutral.
What this means is that the carbon emissions caused by these instruments have been balanced by funding an equivalent amount of carbon savings elsewhere in the world. These savings are generated through helping to fund renewable energy projects and energy efficiency projects - many of which bring additional social and community benefits in developing countries as well as reducing greenhouse gases.