Description
Start learning today! A brilliant crossover between toy and musical instrument pBugle has been designed especially for mini musicians. Light weight and robust enough for a child to learn about brass playing through playful exploration, pBugle is a real trumpet that can develop authentic beginner brass skills without the complication of learning to play valves.
Boasting a traditional bugle design combined with a strong ABS plastic body, the pBugle is virtually indestructible. This ABS body is tough and robust, so you'll never have to worry about knocks or bumps - an essential feature for primary schools!
There's plenty of research to show that early exposure to musical instruments has a positive impact on brain development in younger children. Not only does it support social, language, and reasoning skills, but it also supports effective memory development.
Accessible to everyone
Getting started in music has never been easier with the pBugle. Loved by all ages of players for its durability and comfortable design, the pBugle has opened up the world of brass to a whole new group of players. Although the design of the pBugle may be simple, it is actually a fantastic learning tool for introducing essential musical techniques such as rhythm, articulation, breathing, and more!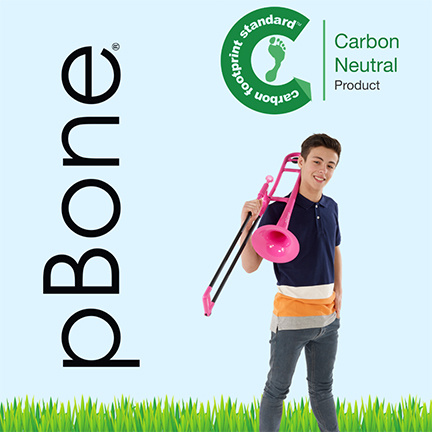 Making pInstruments carbon neutral
As consumers, just like you, our buying decisions are influenced by how sustainable the products are that we buy for our family. We're delighted therefore to be able to share that Warwick Music Group and all their products: pBone, pBone mini, pTrumpet, pCornet, pTrumpet hyTech, pBuzz and pBugle - are Carbon Neutral.
What this means is that the carbon emissions caused by these instruments have been balanced by funding an equivalent amount of carbon savings elsewhere in the world. These savings are generated through helping to fund renewable energy projects and energy efficiency projects - many of which bring additional social and community benefits in developing countries as well as reducing greenhouse gases.