Add your review
pBone Trombone
Description
Easy to play
The pBone is much lighter (around 4 kilos!) than traditional brass trombones. The light weight aids your child's ability to develop good technique and posture and means their arms won't get tired as quickly; they can enjoy playing for longer and progress faster!
Great value
The pBone is fantastic value for money, costing around a quarter of the price of beginner brass trombones. It comes with everything your child needs to play straight away: a smart carry bag which is perfect for rushing between lessons/school/band, two plastic mouthpieces (6.5AL and 11C, although it's also compatible with any small shank trombone mouthpiece) and an array of supporting online learning resources should you need them.
Hassle free
Brass trombones are easily dented, damaged and high maintenance. Because our pBone is made from plastic it is extremely durable and strong, and can withstand the inevitable rough treatment it may receive wherever you take it! Low maintenance and robust the pBone is a worry free, dependable and fun trombone.
Exam approved
If you want to assess your child's progression through graded music exams, pBone is suitable for exams by The Associated Board of the Royal Schools of Music.
Not all colours are always in stock, so please call for availability
*UK shipping of £8.55 applies to pbones.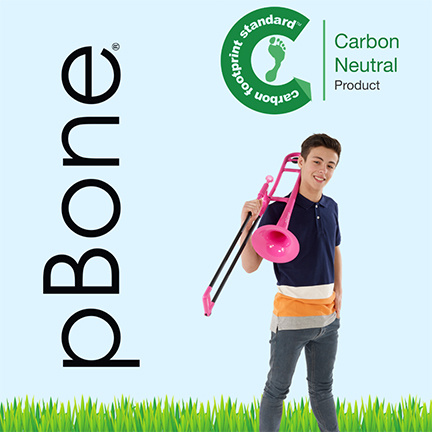 Making pInstruments carbon neutral
As consumers, just like you, our buying decisions are influenced by how sustainable the products are that we buy for our family. We're delighted therefore to be able to share that Warwick Music Group and all their products: pBone, pBone mini, pTrumpet, pCornet, pTrumpet hyTech, pBuzz and pBugle - are Carbon Neutral.
What this means is that the carbon emissions caused by these instruments have been balanced by funding an equivalent amount of carbon savings elsewhere in the world. These savings are generated through helping to fund renewable energy projects and energy efficiency projects - many of which bring additional social and community benefits in developing countries as well as reducing greenhouse gases.