Why choose the trombone?
The trombone is one of the most recognisable musical instruments & certainly one of the most popular instruments that students wish to play. It's an incredibly versatile instrument and features in all genres of music from classical to jazz. 
Learning a musical instrument has many benefits, but it is important that you choose the right one. Construction wise, a trombone is a relatively simple brass instrument, however there are many brands, models & types you can buy, so where do you start?
Types of trombone
Trombones for students are quite basic in design and most beginners will generally start on a straight Bb tenor trombone with small to medium bore (up to 0.500"). These instruments will require less air to produce a nice tone and these trombones are often much lighter in weight too, so perfect for the new player.
Trigger & valve trombones
Valves, trigger & rotors are not generally fitted on student level instruments, but many tenor trombones have these which are suitable for the more advanced player. Bass trombones also come with triggers, but a large bore dual rotor bass trombone isn't recommended for starter trombonists. It's quite an advanced instrument!
The beginner trombone
Trombone models aimed specifically at students have the advantage of being durable, and affordable. They play well, yet are able to be transported on a regular basis, such as being taken to school every week.  
A perfect example of a first trombone is the Jupiter JTB500Q (Pictured below). It's an easy to play instrument which has a nice tonal quality. The previous version of this Jupiter trombone can be found in schools & bands across the country and is a robust, durable instrument ideal for the beginner.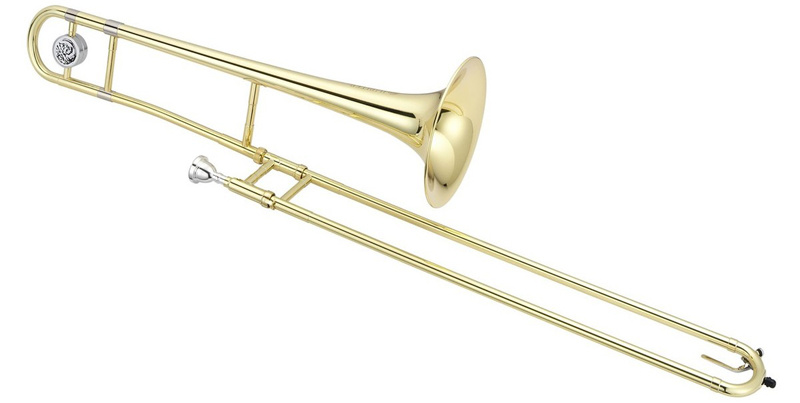 A trombone can be a big investment, and although you may be tempted to purchase a cheap version online, be patient when making your selection. There really is no substitute for buying a new instrument from a specialist retailer rather than from a warehouse. The instrument will have been checked & set up and you get a full warranty with the instrument, plus we will be there to support you as you progress through your musical journey.